STOCKTWITS HELP CENTER
Example:
"Where is the company located?"
or
"Can I order your product online?"
YOU ARE HERE:
Main
Getting Started on StockTwits
Managing Your StockTwits Application
Managing Your StockTwits Application
Third party application are products developed apart from StockTwits that can access your StockTwits post and other data.
How to connect an application:
To connect an application, visit the applications website and click the "Connect with StockTwits" button.

If not logged in already you will be redirected to the StockTwits website to log in to your account.
After logging in to StockTwits, StockTwits will ask you to aprove the application.


Your username and password are never shared with third party applications

The application will list all permissions it will have access to through your StockTwits account, be sure to go over this list before approving the application.



Once you have read the permissions, click "Connect" to approve the application.
Your approved application will be listed in your StockTwits profile settings under "Application."
clicking "Details" next to the applications name will list all permissions that the application is able to access.
What are permissions?
Permissions are a list of all information you are allowing a specific application to have access to. All permission are listed with a green check mark on the authorize appliaction page. They are also listed on the Applications Page in your profile setting. Click the "Details" button to view an Applications permissions.

What do different permissions mean?
Below is a list of the different permission you can expect to see when adding application, this will also explain what an application does and doesn't have access to:
Read Streams, Friendships, and Stocks - This allows the application the ability to read profiles information, such as your StockTwits username, bio and what people and stocks you follow. This does not allow access to your personal information such as you password or email address.
Read Watch List - Shares your private Watch Lists and all the stocks within those lists.
Publish Watch List - You can add new watch list and stocks within the application and share to your StockTwits profile.
Publish Messages - You can share messages from applications to your StockTwits profile.
Read Direct Messages - Allows Direct Messages to be seen through the application.
Follow Users -

Ability for the application to

follow other users on your behalf.
Follow Stocks -

Ability for the application to follow stocks on

your behalf.
How to remove an Application:
To remove an application, visit the Applications Page in your profile settings.
click the "Remove App" button to the right of the applications name.
StockTwits will ask you to confirm that you wish to remove the application, click OK. The application will now be removed from the applications list.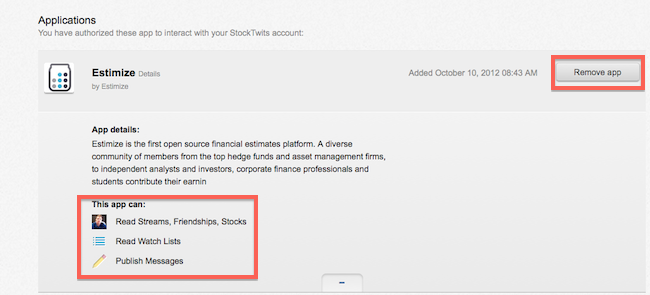 Click Here for a list of Applications that use StockTwits.