STOCKTWITS HELP CENTER
Example:
"Where is the company located?"
or
"Can I order your product online?"
YOU ARE HERE:
Main
Getting Started on StockTwits
How do I update my Trading Profile?
How do I update my Trading Profile?
Updating your trading information can be done through your profile settings. Hover your mouse over your username in the top right corner of the screen, a drop down menu will appear, select "setting" from the drop down menu. You can also click here to update your Trading Strategy.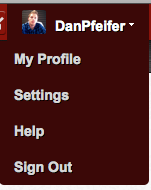 From here, go to the menu on the left and select Trading Strategy . You can update all your Trading information from this screen, when complete click the update button at the bottom of the page.
Your Trading Strategy is now updated.