STOCKTWITS HELP CENTER
Example:
"Where is the company located?"
or
"Can I order your product online?"
YOU ARE HERE:
Main
Getting Started on StockTwits
How do I use my Home Stream ?
How do I use my Home Stream ?
Your Home Stream on StockTwits is comprised of several different streams all rolled into one. You have three main categories on your Home Stream, StockTwits Streams, Following, and Watchlist. To view these categories click on the More Streams at the top of the stream.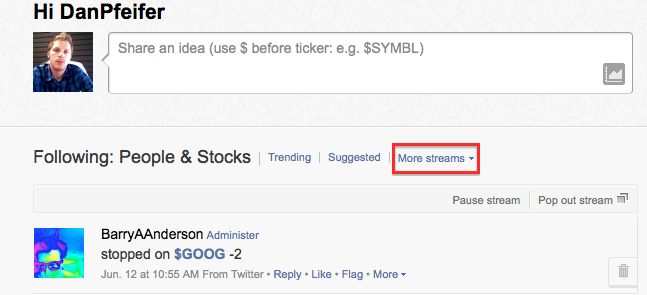 The StockTwits Streams are a list of predefined streams that are popular on StockTwits. In this category you will find things such as suggested user (Users who are hand picked by StockTwits), Trending (Tickers that are popular right now.), and ALL Streams(Every post on every stream on StockTwit). Take the time to explore each one of these streams as they all offer a unique perspective on whats happening on StockTwits.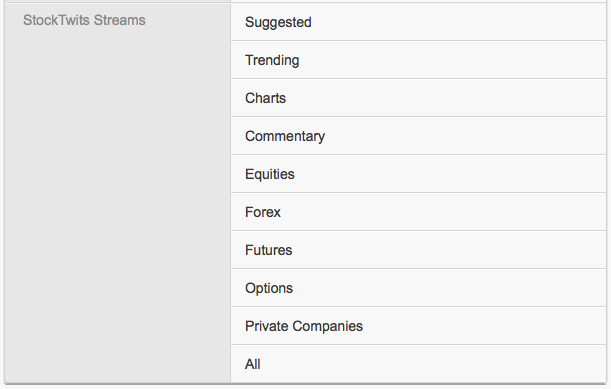 Watchlist, are a unique category of streams created by you. They can include any Ticker symbol you like, and can be named whatever you want. To learn how to create a Watchlist Click Here.

The Following Stream, can be viewed as a stream of just the people you are following or as People plus Ticker Symbols your following. Experiment with this to find out which you prefer.
Your Home Stream will also keep track of your last three viewed streams. This can be seen displayed at the top of the stream. You can select any stream from here for quick viewing.