STOCKTWITS HELP CENTER
Example:
"Where is the company located?"
or
"Can I order your product online?"
YOU ARE HERE:
Main
StockTwits Investor Relations
How do I add a Disclaimer to my message?
How do I add a Disclaimer to my message?
To add a disclaimer to your message, click on the check box icon at the bottom right-hand corner of the message box.

When you click on the check mark icon, you will get a drop down menu of the Disclaimers that you have saved to the system. Check off the disclaimers you wish to add to your message and click "Apply". When the check mark icon is green that means your disclaimer will go out when you send your message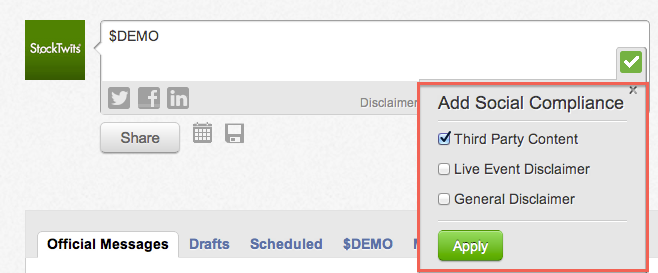 To make it quicker and easier to send socially compliant updates, the new message box will remember the last disclaimer. The next time you go to send another message, if you wish to use the same disclaimer, you can simply type and share your message and it will automatically be added. If you wish to change or remove your disclaimer, you can quickly click the green check mark icon and change your Social Compliance preference.