STOCKTWITS HELP CENTER
Example:
"Where is the company located?"
or
"Can I order your product online?"
How do I view and comment on a conversation?
Messages that are part of a conversation on StockTwits will have a speech bubble in the top right hand corner of the message along with a number to the left of it. This number tells you how many replies are in this conversation.
Please note that the streams will pause while you are viewing a conversation and will resume after you close the conversation.
Clicking on the speech bubble will bring up the message box. In the middle will be the original message that started the conversation. Beneath the original message you will see price and price change since the message about any tickers that are tagged in the message.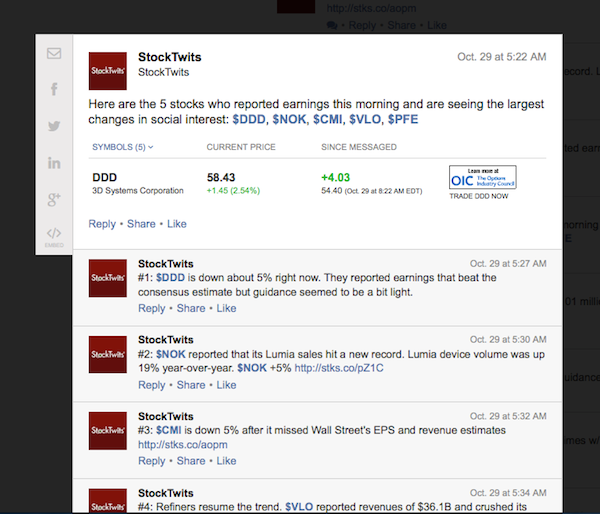 Below the message box you will see new replies posted in chronological order.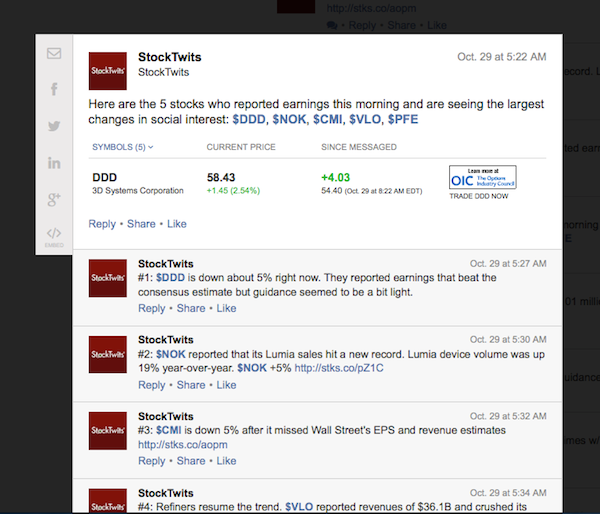 To add to the conversation click on the Messaging box. The Messaging box has all of the same capabilities. Type your message and click on the "Share" button to send it. "Your Message Has Been Shared" will appear in green text below the Messaging box. The message you entered in will slide in and be at the top of the conversation.

When you are done messaging or viewing a conversatoin simply click anywhere outside of the two windows and you will be returned to the StockTwits website.