STOCKTWITS HELP CENTER
Example:
"Where is the company located?"
or
"Can I order your product online?"
YOU ARE HERE:
Main
Getting Started on StockTwits
How do I unfollow someone on StockTwits?
How do I unfollow someone on StockTwits?
You can unfollow someone by clicking on their username, this will bring you to their profile page. If you look at the profile menu on the left you can see if you are following a user. When you hover your mouse over the Following button it will change to UnFollow, click UnFollow from the profile menu to unfollow the user.
You can also chose to UnFollow a user from any one of their post. Just hover your mouse over their username until their user summary is displayed.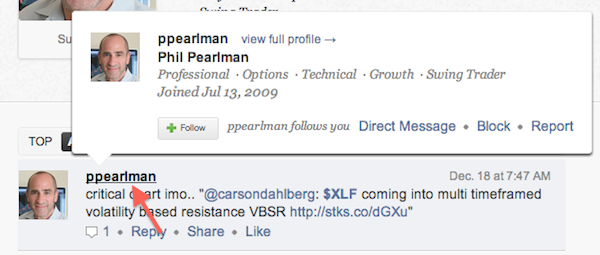 Click the button that says UnFollow to no longer follow that user.

You can to view all user you are currently following by clicking Following from the your profile menu. This will then display every user you are following, you can chose to UnFollow user from here as well.