STOCKTWITS HELP CENTER
Example:
"Where is the company located?"
or
"Can I order your product online?"
YOU ARE HERE:
Main
Getting Started on StockTwits
How do I share an idea on StockTwits?
How do I share an idea on StockTwits?
With the new StockTwits Message box sharing ideas to StockTwits has never been easier. To share an idea click on the white box containing the words Share an idea (use $ before ticker: e.g. $SYMBL).

Upon clicking on the box the default text will disappear. A character count will display in the bottom right hand corner of the box and social sharing buttons for Twitter, Facebook, and LinkedIn will appear just below the box.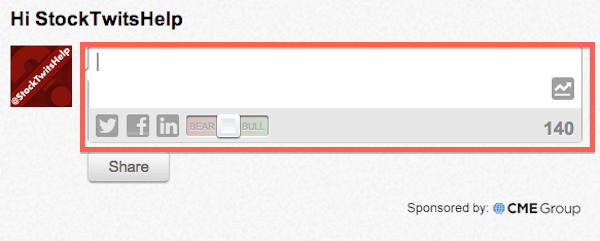 As you begin to type in the message box you will notice the character count will being to decrease. The "Share" button will also change from grayed out to lit up. This indicates that you are now able to share your message.

Upon clicking the Share button you will see a notice at the top of the page saying "Your Message Has Been Shared."
If you see this that means your message has been shared successfully and you are all done! To send another message just repeat the steps described above.
If you're new to StockTwits, you will need to confirm your email address before posting. Email support@stocktwits.com if you are having difficulties with this.